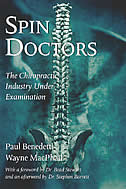 Spin Doctors
The Chiropractic
Industry Under
Fire

Paul Benedetti
Wayne MacPhail

Canadians visit their chiropractors about thirty million times a year, and surveys show that patients are generally satisfied with them. But Paul Benedetti and Wayne MacPhail have another opinion. This book is a powerful endictment of the chiropractic profession in Canada. From the early history of quackery, the latest scam gizmos, strokes, and pediatric abuse to the lack of effective regulation and discipline this book is a real eye-opener.

This book is also available
in Canada from Amazon.ca

Canadian Links
CBC Radio-TV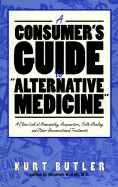 Canadian Links
CBC Radio-TV
---
Canada's Bill C-51 - Legislation to control natural health products and devices
In April 2008 the Conserviative government introduced legislation to once and for all regulate the natural health products and devices industries. An immediate smear campaign to discredit the government was launched by various interested groups. The usual suspects tried to hide who they were, but they couldn't hide for long. After a few sporatically attended events across Canada, they then sent in their friendly lawyer to again smear the government and Health Canada. Letter writing and e-mail campaigns were organized but the results were underwhelming to say the least.

Editorials from mainstream newspapers across Canada painted a much different picture than those articles that supported a libertarian approach to the regulation of natural health products. Tony Clement, our Minister of Health attacked some of the outrageous comments made by Shawn Buckley, the industry's most outspoken legal representative.

I've preserved many of the articles, and some of them may still be available using search engines. The various lobbying groups against Bill c-51 have been hampered by one main problem - they are either lying, or they believe the lies that are being fed to them by the ringleaders of the anti Bill C-51 forces.
Recent articles in support of Bill C-51
Those against Bill C-51
---
Arizona's homeopathic board is the second chance for doctors who may not deserve one
Phoenix New Times
April 10, 2008
John Dickerson

A Utah doctor lost his license after he illegally prescribed drugs over the Internet.

A California doctor lost his license after he was charged with hiding more than half a million dollars in profits, convicted of tax fraud, and sent to prison. Another California doctor's license was suspended twice. The first time, he was accused of missing cancer in two patients. The second time, of misprescribing drugs.

Yet another California doctor went to prison and was ordered to pay $15 million in fines after he was convicted of defrauding Medicare by performing unnecessary surgery on the eyes of elderly patients.

Lose your M.D. license in one state in the U.S., and you may never practice medicine again. Certainly not in this state.

Unless you know about Arizona's Homeopathic Board of Medical Examiners.
Very Soon, Falsely Using the Title 'Dr' in the UK Will Land You in a New Heap of Doo Doo
Breaking Story from the Quackometer Blog
Friday, March 14, 2008 - If you are worried about the activities of an alternative medicine practitioner, there is not an easy way to find the right authority who might look into it. The British Advertising Standards Authority are very effective at investigating complex matters, but can only really rap knuckles and leave traders to carry on pretty much unharmed. Often, the only damage is an ASA ruling placed well down in the Google result list. The ASA can only also look into a narrow range of promotional material; they cannot touch web sites, for instance. Trading Standards have deeper powers and can criminally prosecute, but are not too well geared up to look into false medical claims.

The complexity of trading standards legislation is being largely swept away and replaced with generalised laws to clamp down on unfair sales and marketing practices. The act is a incorporation of an EU directive into English law and so will be applicable throughout the EU area.
---
Flim-Flam Man Adam Dreamhealer
Adam appeared on CBC-TV's The Hour from Vancouver on December 4, 2007. We asked the CBC's producer about the interview the week before and we got no response. It's really unfortunate that it would appear that the inquisitive minds at the CBC have been too busy to care about the fact that Dreamhealer is nothing more than a manipulative non-faith based non-healer who has zero credibility How the hell did George Stroumboulopoulos ever get to the point in his life when all his staff did was to quote from one of Adam's book jackets. "Gifted energy healer" indeed. This university student has been primed by forces that only he knows to continue his gig of mesmerizing audiences with bizarre claims and stage theatrics. If Adam truly believes that he can cure cancer by looking at a fax or picture of somebody across a continent then he has problems. If, and that is what I believe, he is lying to the public about his powers to heal or to empower others to heal themselves then I'd like to ask him to step forward and present the evidence. James Randi has offered him a million dollars to prove it, and he's been unable to come through with anything.
---
Peter Popoff exposed as fraud
Follow the money as his personal income grew by millions over the last few years. This profile also includes James Randi's sting on Popoff when he recorded radio transmissions from his wife during a scam operation many years ago. His "ministry" spans the globe, and yet nobody has been actually able to prove that he is really a man of the cloth.
The only insight into Popoffís organization comes from IRS documents. In 2003, people donated $9.6 million to Popoffís organization. Nearly a million of that, $909,133 went to salaries paid to him, his wife and children. By 2005, donations soared to more than $23 million. And so did the salaries of Popoff and his family, jumping to $3,137,929. When we told Clement [a minister] the numbers, he was stunned. "$23 million dollars? Thatís ridiculous," he said Pastor Fuiten has a different answer: "I think it sours people toward religion."
Even more surprising, Popoff has a history of televangelist fraud. In the 1980ís, he held faith-healing crusades around the country. A video widely available online, shows one of those crusades where he ministers to people with such serious ailments as cancer.
Bill O'Neill and the CCRG
Bill O'Neill's clinic raided by
Ottawa Police & CPSO
On May 10, 2007 the Ottawa Police Service presented a warrant to search the offices of the CCRG (Canadian Cancer Research Group) in the Glebe area of Ottawa. We believe that the CPSO requested assistance because of the previous threats that have been made against several media organizations, individuals and probably the College itself over the last decade.
---
Dr. Hope on CTV's W-FIVE

The long awaited exposť of one of Canada's most dubious cancer clinics in our nation's capital uncovered the truth behind the Canadian Cancer Research Group.
China's TCM (Traditional Chinese Medicine) Wars
An attack on the traditional healing arts has inflamed adherents and sparked a debate about Western healthcare.
By Mark Magnier
Chinese Professor Zhang Gongyao and fellow critics have blasted Chinese medicine as an often ineffective, even dangerous derivative of witchcraft that relies on untested concoctions and obscure ingredients to trick patients, then employs a host of excuses if the treatment doesn't work. For adherents of the 3,000-year-old system, this borders on heresy. The Health Ministry labeled Zhang's ideas "ignorant of history," and traditionalists have called the skeptics traitors bent on "murdering" Chinese culture.
The Province of Ontario wants to regulate TCM as a separate entity. What exactly are they going to regulate? The issues here are plainly that TCM has problems, and can never be regulated as long as the archaic methods of diagnosis and treatments are studied scientifically. Most of TCM is quackery, and those that practice it are unable to satisfy even the most elementary standards of evidence based medicine. Those TCM practitioners want to restrict what others can do without "proper" training. My opinion is that there is no such thing as "proper" training because TCM has little or no value in the grand scheme of things.
---
Hulda Clark robs Tijuana woman of chance to survive deadly cancer!
How Hulda Clark Victimized My Parents
by Patricia Chavez
"I strongly believe that if she had not undergone Clark's treatment and had sought treatment from a real doctor from the beginning, she would be probably be alive today. Clark robbed my mother of any real chance of survival. She is absolute and total fraud. She told my mother she was cured? Yes, cured and that her malignancy was gone. Now, my mother is dead.

I find it frightening that despite of all of Hulda Clark's legal troubles, she has been allowed to continue to treat patients for many years. I am absolutely appalled that she has affected so many lives and continues to do so. She preys on people's desperation and fears. Hulda's treatment is cruel and inhumane. Extractions, cavitation scrapings, horrid living conditions in a cheap motel, and the list goes on. Something needs to be done to stop her from doing this to other people."
---
Kevin Trudeau battles won and lost
Wacko and previously convicted felon Kevin Trudeau made millions selling two versions of his book "Natural Cures They Donít Want You to Know About". Now with his most recent book "The Weight Loss Cure 'They' Don't Want You to Know About" his battles with the FTC continue to drag him down. Will he ever see the inside of a jail cell again?
FDA Issues Warning Letters to Marketers of Unapproved 'Alternative Hormone Therapies'
The Food and Drug Administration (FDA) today announced that the agency has taken action against a number of firms marketing unapproved "Alternative Hormone Therapies" because the products these firms are selling are unapproved new drugs that have not been found safe and effective to treat or prevent certain serious or life-threatening diseases or conditions. FDA issued Warning Letters to 16 dietary supplement and hormone cream marketers who are making unproven claims that tout the benefits of their "alternative hormone therapy" products in treating or preventing serious diseases, including cancer, heart disease, and osteoporosis, and in affecting the structure or function of the body. These alternative therapies are often promoted as "natural" or "safer" treatments that can be used in place of approved hormone treatments. Marketers have 15 days to respond to FDA.
FTC Warns Web Sites Peddling Hormone Replacement Therapy Alternatives to Review Their Claims
The Federal Trade Commission staff today sent warning letters to 34 Web site operators making claims that products advertised as natural alternatives to hormone replacement therapy will prevent or treat diseases, such as cancer, heart disease, or osteoporosis. The warning letters advise these sellers that their marketing claims may be illegal. FTC staff strongly advised the marketers to review their advertising and promotional materials, and to revise or delete any false, misleading, or unsubstantiated product claims.
Chinese medicine outlets probed in UK
Traditional medicines have been used for centuries but scores of traditional Chinese medicine stores in Britain's high streets are being investigated for selling illegal medicines, the BBC has learned. Radio Five Live has discovered that 67 outlets selling Chinese medicines are under suspicion. The herbs are contaminated with dangerous drugs. Sandi Stay had both kidneys removed after taking Chinese medicine which contained a banned toxic drug. She believed she was taking harmless herbs to cure her psoriasis. Traditional Chinese Medicine is now available on virtually every high street and offers treatment for conditions like eczema and weight loss which conventional medicine finds difficult to help. However, some products contain illegal substances, others contain illicitly traded extracts, and many risk causing serious side effects. It's a totally unregulated sector, with no control over whatís on the shelf, and no proper safety tests of the medicines. The Five Live Report investigates Chinese herbalists who put the health of their patients at risk.
---
Homeopathic remedies 'put lives at risk'
Critical Web sites and Searches
George Vithoulkas Makes a Fool of Himself

Homeopathic remedies 'put lives at risk'

George Vithoulkas is considered to be one of the top intellectuals in the homeopathic world. Revered for his teachings and fundamentalist approach to the teachings of Hahnemann, he is probably one of the best known homeopaths alive today. His writings underpin much of the contemporary homeopathic opposition to modern medicine, vaccines and science. He thinks AIDS was caused by repeated use of antibiotics amongst homosexuals with venereal disease. You can find out more about him from the Google Knol he wrote about himself.

Critical Web sites and Searches

Should we maintain an open mind about homeopathy? American Journal of Medicine - November 2009
Michael Baum, MD
Edzard Ernst, MD, PhD

We are often accused of tilting at windmills; and hey what's wrong with offering placeobos for the worried well with self-limiting conditions? Well firstly, it is considered unethical for modern medical practitioners to sink to this kind of deception that denies the patient his or her autonomy. Secondly, by opening the door to irrational medicine alongside evidence-based medicine, we are poisoning the minds of the public. Finally, if we don't put a brake on the increasing self-confidence of the homeopathic establishment, they will cease to limit their attention to self-limiting or nonspecific maladies. Already, an investigative journalist for Newsnight has exposed the willingness of homeopathic chemists to offer homeopathic prophylaxis for malaria. On World AIDS Day, the Society of Homeopaths in London hosted a conference on the treatment and prevention of human immunodeficiency virus/acquired immune deficiency syndrome by using water with a remarkable memory.

Quackometer.net - The quackometer is an experiment to see if it is easy to spot quack web sites just from the language they use. The idea for this site came about after various discussions on Guardian writer Ben Goldacre's Bad Science blog.

Homeopathic satire

Hilarious sketch from the fourth episode of series three of 'That Mitchell and Webb Look.'

Sir David King said homeopathy was of no medical use whatsoever and that those who trusted it to cure serious health problems could be causing themselves more harm than good.

He also told MPs that the Department of Health was wrong to support the use of the alternative medicine and said there was no evidence that it worked.

Sir David, who was speaking to MPs on the innovation, universities and skills select committee, said: "There is not one jot of evidence supporting the notion that homeopathic medicines are of any assistance whatsoever.

"Therefore, I would say they are a risk to the population because people may take them expecting they are dealing with a serious problem."

He also voiced concern that the Medicines Health and Regulatory Authority allowed homeopaths to state on labels what ailments their remedies would treat. advertisement

He said: "How can you have homeopathic medicines labelled by a department which is driven by science?"

Sir David's comments raised the issue of why the NHS continues to allow primary care trusts to fund homeopathy.

Trusts in Brent, Harrow, and Kensington and Chelsea have all withdrawn funding in recent years.

Jayne Thomas, the vice-chairman of the Society of Homeopaths, said: "There is a lot of proof out there that homeopathic medicines do work."

However, she added: "If a patient was seriously ill, any genuine homeopathic practitioner would encourage them to visit a GP."

Homeopathy no better than placebo

Homeopathy's benefit questioned - BBC News A leading medical journal has made a damning attack on homeopathy, saying it is no better than dummy drugs. The Lancet says the time for more studies is over and doctors should be bold and honest with patients about homeopathy's "lack of benefit". A Swiss-UK review of 110 trials found no convincing evidence the treatment worked any better than a placebo.

So why is Ontario's HPRAC in the midst of reviewing homeopathic practice for possible inclusion under the Regulated Health Professions.

"Whether homeopaths should be regulated under the RHPA, including what their scope of practice should be, what controlled acts, if any, they should be authorized to perform, and any protected titles, and whether it is appropriate that homeopaths be regulated under an existing profession specific act."

What is the transitional Council of the College of Homeopaths of Ontario?

It is NOT an educational institution or an advocacy association. Under the Ontario law, the TC-CHO will set up the process to regulate the profession of homeopathy, in the public interest. Once the process is put in place it is the ONLY organization that assesses applicants and determines who is qualified to practise homeopathy in Ontario.

Under the Regulated Health Professions Act, 1991 (RHPA), any organization that falsely holds itself out as a body that regulates individuals in homeopathic practise would be liable to a fine of not more than $50,000 for a first offence and not more than $200,000 for a second or subsequent offence. This includes organizations claiming to assess and/or certify individuals' competencies for the purpose of practising homeopathy in Ontario.

---

Academic Aging researchers sued by A4M gurus

Osteopaths ask for $120 million after being criticized; experts question limits of scientific debate

Two aging-science researchers are suing two other academics for $120 million, arguing that the defendants have damaged their reputation by accusing them of making inflated claims about the efficacy of anti-aging therapies they promote, a case that raises questions about when academic debate crosses a line. The plaintiffs in the lawsuit are Ronald M. Klatz and Robert M. Goldman, a pair of osteopaths who founded the American Academy of Anti-Aging Medicine, or A4M, in Chicago. The doctors, who also earned MD degrees in Belize, argue that their critics have defamed them as scientists and interfered with their business relationships. The two plaintiffs also have a company called Medical Development Management that sells anti-aging products, according to published reports.

The article below contains numerous links. It is a must read for anyone who still doubts the claims made by A4M and the blatant hucksterism in the anti-aging industry in general.

Andrew Weil Takes on Anti-Aging 'False Prophets'

The best-known practitioner of integrative medicine, melding alternative and traditional approaches, has gone mainstream. Dr. Andrew Weil, whose 10th book came out Oct. 18, intends to raise the public consciousness about aging, and why it is and should be healthy. In his view, advocates of anti-aging medicine, who tout regimens ranging from growth hormone to Botox and cosmetic surgery to stop the aging process, have become the 21st century equivalent of snake-oil purveyors ó long on pitch and short on scientific substance. It's a charge that's been leveled at Weil for years. Weil calls anti-aging advocates "false prophets who are putting out a message that aging is reversible or that we can stop it."

Monte Kline forced to pay consumers for bogus EDT treatments

Mailorder PhD mogul from Washington State plied his trade on unsuspecting victims who were told that electrodermal testing would find the cause of their health problems. Having done that, Kline's "clinic" would then sell them hundreds of dollars worth of supplements that were not needed. This case is the biggest settlement in the history of quackbusting and it comes after years of hard earned efforts from the State of Washington.

Child with autism dies during chelation treatment

A 5-year-old autistic boy died Tuesday in a Butler County doctor's office while undergoing an increasingly popular though controversial medical treatment touted by some as a cure for the lifelong neurological and developmental disorder. Abubakar Tariq Nadama died while receiving chelation therapy, an intravenous injection of a synthetic amino acid that latches onto heavy metals and is then passed in the urine. State police at Butler are investigating Nadama's death, which occurred at the office of Dr. Roy Eugene Kerry in Portersville.

State police at Butler are investigating the child's death, which occurred Tuesday morning after he went into cardiac arrest while receiving chelation -- an intravenous injection of a synthetic amino acid known as EDTA, for ethylene diamine tetraacetic acid. The Food and Drug Administration has approved the practice only to treat heavy metal poisoning.

"Chelation for autism is a fraud," said Stephen Barrett, a retired Lehigh County psychiatrist and founder of the Quackwatch Web site. "Many doctors who treat children for autism claim they are suffering from mercury or lead toxicity. There is no sufficient evidence that autism is caused by mercury or lead toxicity."

The child's death has spurred heated debate within the autism community as parents and medical professionals argue over the safety of chelation and its varied methods of treatment.

Resources - autism, mercury, vaccines, chelation etc.

Autism - Government agencies

Autism - Bogus claims and controversies about etiology and/or treatments

Government hearings and pressure groups

BIE Health Products sues the world

Richard Beemer is represented by health freedom guru Trueman Tuck

Richard Beemer, the proprietor of BIE Health Products, appeared before the Standing Committee on Health on May 9, 2005 to pitch his position that selling what I would consider to be bogus products is okay.

"My company had annual sales of over $1.5 million taxable, and it has been deliberately destroyed unlawfully by Health Canada and the Canada Border Services Agency over the last 18 months or so. These agencies did this by simply cutting off our cashflow, by threatening my advertisers, and unlawfully stopping all personal imports of my product to Canadians."

He left a distinct impression that Health Canada and their employees were nasty little men and women who are out to get him. Of course who would come to his rescue but Trueman Tuck, the health freedom advocate and launcher of a "thousand" anti-government web sites. Okay, it's not quite a "thousand", it only seems that it is.

On July 21, 2005 I received two packages from Tuck via Purolator. Each of them was about an inch thick, but up here in Canada, it's really 2.54 cm. Since Tuck had just returned from the Codex meetings in Rome in early July. It was reported that he attended the meetings with Carolyn Dean, who can no longer practice as an MD in Ontario, and Peter Helgason from Strauss Herbal products. I guess that their influence probably led to Codex coming down hard on the nutraceutical industry in Europe.

I know that he is foaming at the mouth just waiting to get even with the rest of the world. I have scanned in his lawsuit that names just about everyone of interest in the Canadian government, Health Canada.

Tuck has a knack of associating himself with some controversial issues, and has also helped spread misinformation about me, much of it courtesy of Tim Bolen who you will note below is not the kind of person you'd like to take home for the holidays.

Tuck's publications include Health Freedom Update. It's jam packed with nice pictures of politicians who he favours.

It will be interesting to see what happens with his lawsuit. If it turns out like the lawsuit he launched on behalf of Nick Jerch from Bell Distributors, I wouldn't bet on a victory before any judge or jury.

Tim Bolen sued by Aetna

Thanks to Casewatch.com and Dr. Stephen Barrett

Documents presented to the U.S. District Court for Colorado suggest why "biological dentists" helped fund the lawsuit that Cavitat Medical Technologies filed against Aetna, Inc. last year. [Barrett S. Documents suggest why bogus "racketeering" suit was filed against Aetna. Casewatch, July 15, 2005]

Documents filed with the court indicate that Cavitat's lawsuit was backed by "biological dentists" who purchased shares that would entitle them to a percentage of any money collected if Cavitat prevailed. These documents also indicate that the shareholders also planned to add dental boards as defendants in their racketeering suit if they did not agree to stop disciplining dentists who diagnose and treat "NICO."

One describes the funding scheme

Cavitat, Jones, Bolen and others have engaged in a campaign to intimidate and obstruct testimony of witnesses under subpoena in this case by various means including the posting of false representations on the Internet and physical stalking of witnesses in this case.

Exemplary Damages request:

The conduct of Jones and Cavitat as well as Bolen and their other agents was intentional, willful, wanton, malicious, reckless, grossly negligent and deserving of punishment. Aetna is therefore entitled to exemplary or punitive damages in the maximum amount allowed by law to punish Jones and Cavitat and to deter other similarly-situated persons from engaging in like conduct

.

---

Hulda Clark Lawsuit Reinstated

Appeals court upholds suit against Hulda Clark and her attorney.

The California Court of Appeals has reinstated a malicious prosecution suit that Dr. Stephen Barrett filed in December 2002 against Hulda Clark and attorney Carlos J. Negrete.

Clark is an unlicensed naturopath who claims she can cure cancer, AIDS, and other serious diseases with a low-voltage electrical device and various herbs. [Barrett S. The bizarre claims of Hulda Clark. Quackwatch, Nov 9, 2004] Barrett is suing her for libel because she hired a "publicist" who has been attempting to destroy his reputation by spreading false and defamatory statements about him [Barrett S. A response to Tim Bolen. Quackwatch, March 18, 2005]. In 2001, Clark filed a malicious cross-complaint in which she accused Barrett, his wife, and many other defendants with "racketeering" and a long list of other crimes and civil wrongs they did not commit. [Barrett S. Bogus "anti-quackbuster" suit dismissed: Why I am suing the lawyer who filed it. Quackwatch, March 18, 2005] In 2003, a lower court judge dismissed the malicious prosecution suit on grounds that Barrett not had presented enough information to conclude that Clark and Negrete knew the cross-complaint was groundless.

In reversing the lower court decision (see below), the Appeals Court used these words to describe their reasons why the original court should go to trial:

"the scurrilous nature of the defendants' allegations of wrongdoing and their efforts to publicize them widely on the Internet, when coupled with their utter failure to offer any proof of their charges"

[Appeals court upholds malicious prosecution suit against Hulda Clark and Attorney Carlos Negrete. Quackwatch, March 22, 2005]

---

Defamation as a tool to silence Quackbusters

Terry Polevoy, MD

Fear Defamation & Loathing - Health Freedom Advocates' War on the Quackbusters

I've spent hours and hours of my time trying to help people who have been victimized by quacks. Attacks on my credibility are a dime a dozen, and they aren't worth that much. But, the boldness of these assaults have grown much meaner over the last few months. Why is that? Why have the idiots who run quack cancer centres in Canada, and Mexico so worried about what I have to say?

In this section of my web site I will try to focus on major attacks that have involved me personally. In addition, those of you who have been privately or publicly attacked will have a chance to pour your heart out and tell your side of the story.

In addition, I have established a Defamation & Libel Blog to counter the Blogs that have allowed libel and defamation to thrive.

---

Alex Orbito 'Psychic surgeon' charged with fraud in Toronto
'Removed tumours': Practitioner once tended to Shirley MacLaine

The Filipino "psychic surgeon" who once ministered to film actor and New Age maven Shirley MacLaine has been charged with fraud in Toronto, police said in a press release on June 15, 2005.

They allowed Orbito to go out on bail for just $35,000. We assume that they kept his passport so he could not leave the country. That of course assumes that his passport is valid, and that he doesn't have friends in high places who could swish him out of the country back to his 200 metre high pyramid of power back in the Philippines.

He will be in the Scarborough courts, room 412, 1911 Eglinton Ave East, Monday - July 11, 2005 at 10:00 a.m. should anyone want to attend.

Alex L. Orbito, 65, a self-described "reverend" who claims to reach into the bellies of the ill to retrieve their "negative energies," faces charges of fraud over $5,000 and possession of the proceeds of crime. They say that he saw 600 people at a Best Western Hotel room last weekend and charged them about $135 Canadian for a few minutes of his time.

This sleaze ball had local coordinators who put this together. The Toronto arrest is only the tip of the iceberg for this slime ball. He's been doing this for years on nearly every continent. Why is it he and his entourage think that they can just continue on this scamfest. And that brings me to another scammer, but in this case, he's a teenage boy and he's home grown.

Psychic surgery links

Healing is in the eye of the beholder -
A scam is a scam is a scam

Comments: If Alex Orbito has been charged with scamming millions of dollars from victims around the world why was he allowed to enter Canada in the first place over a month ago. What did he tell Canadian Customs when he got off the plane? Are our borders open to anyone who love to prey on people who have terminal diseases? And who is the mysterious 62 year old Pickering man named John Robert Wood who was charged with him. Did the hotel not find it rather strange that a man who rented a room was visited by over 600 individuals?

If Orbito was charged with fraud, then why is he any different than Adam Dreamhealer, or Benny Hinn, or any of the other people who pretend to cure cancer or make blind people see?

Canadians should appeal to CCRA to audit the books of anyone who pretends to cure people, who in actuality are just plainly and simply hucksters, flim-flam artists, and crooks. Just because someone's parents and their teenage son are Canadian should not remove them from the scrutiny of our regulators and tax people. A scam is a scam, is a scam, no matter which glossy magazine or TV show they appear on, or who their friends are in the media or entertainment business.

---

Anti-vaccine zealots claims are false

Vaccines do not cause autism. Numerous studies should silence these vaccine critics. Some have religion, and others are blatant liars who see profit before science as a motivational tool. The press doesn't get it either. They are too stupid to realize when they are being scammed, and it's our fault.

Devgan investigated for scamming Mennonite couple after losing his right to practice medicine in Ontario

[The original article never mentioned Devgan's name because of legal concerns, and the fact that he could be criminally charged for fraud and practicing medicine without a license. In my opinion, the CPSO has no power to do anything to Devgan since they took his license away for good after years of doing absolutely nothing about him. It's in the hands of the police. So what else is new with this notorious scamster?]

What is Super-Homeopathy?

Before you can understand super-homeopathy, you need to know a bit about good old-fashioned homeopathy, as developed by Samuel Hahnemann (1755-1843).

Click on Gulli-Go for the answers.

A homeopath will start with a substance that produces the same symptoms as the disorder that is troubling the patient. Such a substance is supposed to prompt the body to heal itself. So, for a gullibility remedy, we'd start with something that makes people easier to fool*, such as grain alcohol or the essence of television programs such as a television newscast, especially one from CNN or Fox, or a televangelist's broadcast, especially one who cries and does faith healing. Any speech by a world leader will do as well and U.S. presidents have been especially good for this purpose of late.


William Hammesfahr, M.D.
Questionable Nobel Prize Nominee
and advocate for the Shindler family in the Terri Schiavo case

Dr. Joseph Mercola busted by FDA

Mercola gets FDA Cyberletter

Dear Dr. Mercola:

This is to advise you that the Food and Drug Administration (FDA) has reviewed your web site at the Internet address www.mercola.com and has determined that the products Living Fuel RxTM, Tropical Traditions Virgin Coconut Oil, and Chlorella are promoted for conditions that cause these products to be drugs under section 201(g)(1) of the Federal Food, Drug, and Cosmetic Act (the Act) [21 U.S.C. ú 321(g)(1)]. The therapeutic claims on your web site establish that these products are drugs because they are intended for use in the cure, mitigation, treatment, or prevention of diseases. The marketing of these products with these claims violates the Act.

The Dubious Promotion of Herbalife's Niteworks

Stephen Barrett, M.D.

Herbalife would like you believe that taking Niteworks will benefit your heart.
The product was formulated by Louis J. Ignarro, PhD., professor of molecular and medical pharmacology at the UCLA School of Medicine, who shared the 1998 Nobel Prize in Medicine for his research concerning nitric oxide as a signaling molecule in the cardiovascular system. This article tells why Dr. Stephen Barrett believes that Niteworks is being promoted with improper claims and Ignarro's conduct has been highly questionable. You can watch two short clips of Ignarro's performance at a Las Vegas rally where he appears to be an Herbalife hero ready to enter the ring, or the race to a victory celebration.

Nobel Prize Winner Didn't Disclose Herbalife Contract - Bloomberg special report:

The Nobel Prize winner didn't return telephone calls to his office and to the public relations department of the University of California at Los Angeles, where he teaches. Herbalife spokeswoman Barbara Henderson said the company won't comment, on advice from its lawyers, because it's planning an initial stock sale to the public.

Hulda Clark supporters snuffed by FTC actions

HuldaWatch - December 4, 2004

Challenging quacks and frauds

Medical Post - November 2, 2004
By Barbara Kermode-Scott

---
The Gentle Wind Project
Mix a little quantum physics, telepathy, and a dozen or so crazy inventions over the years, such as a colourful plastic trauma card, or a super "healing puck" and wrap it around a non-profit organization that ducks paying the right amount of taxes every year and you come up with
the Gentle Wind Project.
And, they are headed for Toronto's Sheraton Centre Hotel on October 9-10 this year.
The press and media loves them, and they ignore the fact that GWP has been investigated on two coasts, and are involved in a number of nasty lawsuits. Our QuackeryWatch investigation begins in Canada with links to the U.S., Australia, and even into Iran and Iraq. Stay tuned for more good reading and listening.
---
The Real Deihl
How a Paradise Valley, Arizona snake-oil salesman sprayed his way to success
BY ROBERT NELSON Nine days after September 11, 2001, a guy named Joe Deihl from Paradise Valley started a company called Regency Medical Research, Ltd.
Within months, Regency had an amazing new product on the market. It was KI-Spray, a small bottle of potassium iodide that users could spray in their mouths when "a nuclear disaster strikes" to "shield yourself and your family against thyroid-related cancers and other diseases that crippled and killed thousands for years after the Chernobyl nuclear plant disaster."
No joke. Thanks to Deihl, Americans could just spray away those annoying Armageddons.
"No water needed, no pills to swallow, just spray like a breath freshener . . . to protect you and your loved ones," the company said on its Web site, www.vitamist.com.
KI-Spray was arguably the most brilliant invention in the history of American snake-oil medicine.
The U.S. Food and Drug Administration, however, did not appreciate the historic beauty of KI-Spray. In June of 2003, Alonza Cruse, director of the FDA's Los Angeles district, sent Deihl and his company a letter ordering them to stop selling KI-Spray immediately because the product and the company's claims violated numerous provisions of the federal Food, Drug and Cosmetic Act.
One of those companies received a cease-and-desist order from the Arizona Attorney General's Office in 2002 for unlawful credit card billing practices. Two other companies have bad ratings from the Better Business Bureau.
Deihl and his companies, some owned jointly with his wife and sons, have had nearly 70 lawsuits filed against them in state and federal courts. Bills weren't paid. Refunds weren't refunded. Credit cards were charged without authorization. Two of the companies have gone bankrupt.
Renew You
Holistic Medicine Scams
The Dundas Star News has allowed an advertisement to run in its local newspaper since June 2004 for a holistic health clinic in Ancaster, Ontario. The ad that we saw ran on August 20, 2004. Did anyone at the newspaper check on the actual credentials of the owners of the clinic? Had they checked they may have discovered some holes in their credibility. But, newspapers are not supposed to be consumer watchdogs, they are there to make money and provide for the good of the community.
So what good is it to have this type of holistic clinic in their town?
Renew You claims on their web site that two kinds of regulated health professions work at their facility, i.e. massage therapy and physiotherapy. According to the regulations of the physiotherapists and massage therapists they can not be associated with or perform certain kinds of treatments or they could be taken before the disciplinary committee of their respective Colleges. So what would make someone who has the public's trust given to them by law associate with people who have no credentials recognized by law?

One of the worst examples of health quackery today is the use of electronic equipment to diagnose, evaluate and treat serious medical conditions. This clinic uses one of the worst examples of medical quackery I have ever seen.
---
They Had One Thing In Common
by Shelia Lewandowski
"People who went there were intelligent people"
"They were smart, they were funny"
"They believed in God"
"They all had one thing in common, though
- they were going to die."
Shelia's mother died, another victim of cancer quackery
CSCT Inc. - Zoetron Settlement
CSCT, Inc. Settles FTC Charges Press release - Feb. 14, 2004

Michael John Reynolds and John Leslie Armstrong agreed that their company offered bogus electromagnetic cancer therapy to U.S. citizens. So what about the Canadian's who fell for this?

The settlement prohibits the defendants from making false claims in connection with the marketing and sale of any service, program, food, drug, or device and prohibits them from helping others to do the same thing.
A Healthy Dose of Fraud
Dr. Terry Polevoy was on the Mitch Albom Show on 760 WJR in Detroit on March 18 to discuss insurance scams, and health fraud. This undercover investigation by John Quinones, and producers of PrimeTime Thursday show was a blockbuster. We can't figure out why insurance companies paid anything for the procedures. The show ended with an announcement that some of the clinics were raided by the FBI.
Primetime Investigates a Gigantic Medical Insurance Scam - ABCNEWS.com
March 18§ It's one of the largest medical insurance scams in history, according to the FBI § involving thousands of healthy people across the country. In the scam, agents say, recruiters bring "patients" from across the nation to surgery centers in California where they give phony or exaggerated symptoms and doctors perform unnecessary operations on them. Then the surgery centers send inflated claims for the unnecessary procedures to the patients' insurance companies. When the insurers pay up, federal authorities say, the recruiters, the surgery centers and the patients split the proceeds. The FBI believes as many as 100 surgery centers are involved in the scams, many of them in Southern California. "For a few dollars, somebody is going to subject a human being to carving them up, subjecting them to risk," said FBI agent Grant Ashley. "That's as bad as it gets."
Holistic World Expo 2004 - Toronto
Since the Total Health Expo at the CNE in Toronto failed to draw significant crowds, I wondered why. Well, it must be that the right-wing politicos in charge of the T.H.E. must eight have outstayed their welcome a the Toronto Convention Centre, or people didn't want to shell-out their hard earned money for their second-rate show.

So, here comes the next best thing for the CAM community in Toronto. It's the Holistic World Expo. Some of the same faces are there, and we just can't resist the challenge of casting as few stones at some of their presenters, and exhibitors.
Total Health Expo 2004 - Toronto
Eva Briggs gets instructions from Grassy Mohawk guy
Gary Young and his Essential Oils
Gary Young Essentially Wacko at Toronto's Total Health Expo

They came to hear him talk about hormones, but all they heard was total and complete baloney. The evidence is clear, he is not who he says he is. He avoids talking about his legal difficulties, the arrests, the lies, and a whole bunch of other stuff, including an axe-wielding assault on one of his former employer's offices, and attacks on his own family. So, why was there standing-room only in Toronto in March 2004?

A Critical Look at Gary Young

Huckster for Young Living Essential Oils, and Raindrop Therapy this dangerous quack has lived a series of lies. Dr. Eva Briggs takes the shine off Young's oily past in this no-holds-barred attack on one of North America's most notorious flim-flam operators.
HealthWatcher.net Announces
The True Story of EMPOWERPLUS
Pig Pills, Inc.
the
Synergy Group
&
Truehope.com
The result of over two years of research into the bizarre claims and marketing of a nutraceutical made in Utah, sold in Alberta, and promoted by some pretty slick business people. This story involves claims made by leading researchers in universities, unbelievable media hype, and a scramble to stay one step ahead of Health Canada.
Recent FTC Actions
Coral Calcium bulletins
Full coverage on HealthWatcher.net
FTC bars Kevin Trudeau from any infomercial - Sept. 7, 2004

Trudeau Settles Claims in Connection with Coral Calcium Supreme and Biotape A Federal Trade Commission settlement with Kevin Trudeau " a prolific marketer who has either appeared in or produced hundreds of infomercials " broadly bans him from appearing in, producing, or disseminating future infomercials that advertise any type of product, service, or program to the public, except for truthful infomercials for informational publications. In addition, Trudeau cannot make disease or health benefits claims for any type of product, service, or program in any advertising, including print, radio, Internet, television, and direct mail solicitations, regardless of the format and duration. Trudeau agreed to these prohibitions and to pay the FTC $2 million to settle charges that he falsely claimed that a coral calcium product can cure cancer and other serious diseases and that a purported analgesic called Biotape can permanently cure or relieve severe pain. Trudeau is paying $500,000 in cash and transferring residential property located in Ojai, California, and a luxury vehicle to the Commission to satisfy the $2 million monetary judgment against him. In the event that the court finds that Trudeau or his companies misrepresented their financial condition, the order would require Trudeau to pay $20 million pursuant to an avalanche clause.

FTC holds Kevin Trudeau in Contempt - On June 29, 2004, a U.S. District Court judge found Kevin Trudeau in contempt of court for violating a July 2003 stipulated preliminary injunction. The Court found that Trudeau violated the preliminary injunction when he disseminated direct mail pieces and an infomercial that made claims that coral calcium is an effective treatment or cure for cancer and other diseases. The preliminary injunction prohibited Trudeau from making these claims. The Court ordered that Trudeau cease all marketing of coral calcium and expressly reserved the right to impose additional remedial measures.

FTC and FDA Crack Down on Coral Calcium - The Federal Trade Commission and the Food and Drug Administration (FDA) have combined actions against Bob Barefoot and Kevin Trudeau. Why didn't they do it when we first reported this scam years ago? How many millions of dollars have these swindlers put away in offshore bank accounts?

Good Morning America slams Coral Calcium - False Hope?
By Greg Hunter
Experts Doubt Coral Calcium Infomercial Health Claims - Infomercials for a new "cure-all" are the most aired in the country and ad pitchman Bob Barefoot has told millions of people that taking a mineral supplement called coral calcium will help cure some of the most dreaded diseases known to mankind.
"I've had a thousand people tell me how they've cured their cancer," Barefoot says in the infomercial. "I've witnessed people get out of wheelchairs from multiple sclerosis just by getting the 'Coral.' "
The sad truth, however, is that Bob Barefoot's claims are dubious at best, according to Dr. Stephen Barrett, a consumer advocate who runs the Web site "Quackwatch." Barrett adds that, in many cases, Barefoot is just plain wrong.
QXCI - how can it diagnose cancer?
QXCI doctors - Why do some of them claim that they can diagnose cancer in Canada - After receiving a complaint from a Quebec woman who was scared to death that she had a brain tumor after visiting a quack earlier this year, we tracked down the operators of a few alternative health clinics, and the vendors who sell these bogus systems. We were shocked that some of those people who spent over $13,500 U.S. for these devices were indeed registered health professionals in Canada.
MSB-Holistics - Why didn't the Buffalo, NY scammers bring their QXCI machine to the University of Waterloo, and why didn't they even discuss it at an open meeting? Did they think that Health Canada would be in the audience?
Major Actions Against Spammers & Phishers
If you've been spammed, spoofed or phished to death over the last few years, help is on the way. Follow the action at HealthWatcher.net's latest addition. We've created a great resource for the latest news and a vehicle for your complaints. It's not too late to get even, and there's a potential to actually be rewarded for your efforts.
---
Jewish conspiracy movement masquerades as New Medicine
Alan Borovoy from the Canadian Civil Liberties Association will be there to defend their right to spread hateful propaganda?

There is new alternative health movement picking up speed in Quebec, called, "Biologie Totale". They are heavily recruting for new believers across North America, but their roots are from Germany. The "system" is based on the work of a German by the name of Ryke Geerd Hamer. He has a really dubious record in Germany where he was arrested for the illegal practice of medicine. His system is called, "New Medicine", and is based on the premise that all disease (that's right, ALL disease) are a result of psychological conflict and that the appearance of symptoms are a result of the body trying to heal. However, as you will see below, there is much more to this, than just "mind control".
Here's some excerpts about his views on cancer from one English site. Pay attention to the phrase "Iron Rules of Cancer":
Does this stuff have a familiar ring to it folks? The Tax Tyranny and Health Freedom lobbyists in Canada and the U.S. sounds are probably goint to cheer them on.
New Medicine Events and Registration
The "offical" English language website has a .ca domain extension:

It is registered in Canada to:

Domain newmedicine.ca
Organization Ilsedora Laker
Registrar Tucows.com Co.
Renewal Date 2004/11/05
Date approved 2002/11/05
Last changed 2004/01/30
Description
Registrar Number 156
Registrant Number 519021
Domain Number 519022
DNS1 dns17.dnsback.com
DNS2 dns18.dnsback.com

It is hosted in the U.K. by www.company-online.co.uk
---