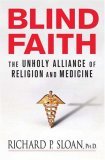 Blind Faith: The Unholy Alliance of
Religion and Medicine
by Dr. Richard P. Sloan, PhD
Blockbuster New Book tackling the thorny issues about religion, prayer and medicine. If you've been told that you have an incurable illness, and that prayer will help --- think again.
This book will open your eyes. Dr. Sloan is a professor at the Columbia University School of Medicine and he introduces us to the major players in this new area of Christian evangelism. The studies purporting to show any health benefits from going to church or "being religious" are all so flawed as to render them useless. Using his epidemiological knowledge, Sloan carefully shows the reader how one should analyze claims from the media and claims in journals that purport to show a connection between religious behavior and improved health.
Support HealthWatcher.net

If you would like to support our efforts to combat quackery, health and diet fraud we make it easy for you to donate to the cause.
Search for Cancer Quackery
ZoetronWatch - CSCT scams the world
CSCT's Zoetron - Not a Cancer Cure
"People who went there were intelligent people," she said. "They were smart, they were funny. They believed in God. They all had one thing in common, though - they were going to die."

Shelia Lewandowski, daughter of victim
Zoetron finally charged by the Canadian Competition Bureau
Why did it take Canada's Competition Bureau years to finally charge the Canadians involved in this egregious scam?
Criminal Charges Laid in Cancer Treatment Scam Following Competition Bureau Investigation - Press release - August 2, 2005

The Competition Bureau announced today that criminal charges have been laid against Michael Reynolds of Toronto, Ont., and John Armstrong of Penticton, B.C., for making false or misleading claims regarding the efficacy of their alleged cancer treatment. The principals of the now defunct CSCT Inc., operating out of Kitchener, Ont., and Penticton, B.C., claimed that their treatment, known as Cell Specific Cancer Therapy or Zoetron Therapy, could selectively kill cancer cells without harming healthy cells.
Zoetron crushed by FTC?
The bottom line is this, two years ago, the FTC closed their web sites, and froze their bank accounts in the U.S. But guess what, we don't see anyone behind bars anywhere. They DID NOT HAVE TO ADMIT THAT THEY DID ANYTHING WRONG.

Duh, so why aren't they crushing rocks on a chain gang in Ohio, or British Columbia, or Kitchener, Ontario? What about their victims, some 850 of them who paid these guys all of that money?
CSCT, Inc. Settles FTC Charges Press release - Feb. 14, 2004

Michael John Reynolds John Leslie Armstrong agreed that their company offered bogus electromagnetic cancer therapy to U.S. citizens. So what about the Canadian's who fell for this?

The settlement prohibits the defendants from making false claims in connection with the marketing and sale of any service, program, food, drug, or device and prohibits them from helping others to do the same thing.

Stipulation Final Judgement - Feb. 12, 2004 - Adobe .pdf - 20 pages.
CSCT, Inc. closed down - February 20, 2003 -
FTC, Canada, and Mexico Officials Crack down on Foreign Companies That Offer Bogus Cancer Treatment In coordination with officials in Canada and Mexico, the Federal Trade Commission has charged CSCT, Inc., based in British Columbia, with making false claims that it can treat cancer by using an electromagnetic device to kill cancer cells. The FTC alleges that the company uses its Internet Web site to advertise this treatment to consumers in the United States and elsewhere.

According to the FTC, the defendants charge consumers $15,000 up front for several weeks of "treatments" with the electromagnetic device. They've closed their web stites, frozen their bank accounts in the U.S., but guess what, there have been no bloody arrests anywhere. Duh, so why haven't they? What about the victims, some 850 of them who paid the jerks all that money?

Feds Sue 'Zoetron' Cancer Cure Company - FindLaw.com
Gloria Owens of Portage, Ind., put off experimental chemotherapy to try the therapy at another CSCT clinic, in the Dominican Republic, after doctors said her brain cancer was terminal, her daughter said at a news conference held by the FTC. Her mother spent $20,000 for 10 days of the treatments, also called "Zoetron Therapy," while her condition steadily worsened, Shelia Lewandowski said at the news conference.
Old News
Web sites not shut down as claimed by FTC
Background to cancer fraud
Domain registration process fueled illegal activity
The Kitchener-Waterloo Connection
Domain Registration for CSCT.COM goes way back to May 29, 1997 when it was registered with an address at 253 King Street N., Waterloo, Ontario. You will notice that on the registration, no city was mentioned. It so happens that I live in Waterloo, and drive by that address almost every day.

It was originally registered by someone named Paul Krusky who operated out of the National Online office. The phone number for this company is still 519-725-0606. The King Street location operated for years as a computer retailer and repair shop as well.

They also operate WorldWithoutWire.com. They say that their management is tops in its field. Well, if they registered these cancer scammers back in 1997, what were they thinking about? The original registration through Network Solutions shows only one name, and that name is not, as far as I know, associated with CSCT.COM itself. This is a big tipoff that someone wants to hide their identity from the public. And I guess you might say that our local area has helped keep these identities secret along with the folks in Ottawa that appear to be associated with the registration of the latest web site in B.C.

WorldWithoutWire - Acceptable Use Page -

Acceptable Use Policy - .pdf file

World Wide Wire is strongly committed to protecting the privacy of consumers of its interactive products and services.

Does this it mean that WorldWideWire.com won't share any information with the public in regards to those companies or individuals who may have used them to set up web sites that were clearly aimed, right from the beginning, to defraud the public?
The Ottawa - Penticton Connection
Does this mean that URL owner's names will not be provided to the public who feel that they are being scammed or defrauded by web site that are registered through companies owned by Rob Hall? When Dax Kent registered the web site in November 2002, his was the only name that appears on the registration sheet. The fact that the company under investigation was originally incorporated in Kitchener, Ontario, and operates in an entirely different city in British Columbia is not available on the registry of NameScout.com. Why is that? Wouldn't you want to know who really owns these scam operations?
Dax Kent - was he duped?
Dax Kent has been told by the Courts of B.C. to refuse to respond to questions about his role in the registration of the web sites. Who is he, and why would anyone in his position be held accountable?
His e-mail address is: dax@bcmbg.com
Why not give him a dingle at work at 250 - 493-6643. That phone number is registered to B&B Copy and Office Services. Or maybe at home 250-493-6944 , or better yet fax him at 250 - 493-5534 to see what else he does in his spare time.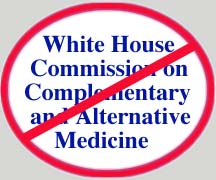 Canadian Links
CBC Radio-TV
Have you been scammed by cancer quacks?
If you have a story to tell about a quack doctor, method, or therapist in your area, please let us know all the details and we may be able to advise you what to do. It's certain that the government here in Canada has been unable and unwilling to help you. It's time for legal action to take these people down.
Fax your story to 519-725-4953
E-mail to: Cancer Scams