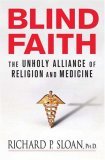 Blind Faith: The Unholy Alliance of
Religion and Medicine
by Dr. Richard P. Sloan, PhD
Blockbuster New Book tackling the thorny issues about religion, prayer and medicine. If you've been told that you have an incurable illness, and that prayer will help --- think again.
This book will open your eyes. Dr. Sloan is a professor at the Columbia University School of Medicine and he introduces us to the major players in this new area of Christian evangelism. The studies purporting to show any health benefits from going to church or "being religious" are all so flawed as to render them useless. Using his epidemiological knowledge, Sloan carefully shows the reader how one should analyze claims from the media and claims in journals that purport to show a connection between religious behavior and improved health.
Support HealthWatcher.net

If you would like to support our efforts to combat quackery, health and diet fraud we make it easy for you to donate to the cause.
Canadian Quackery Watch - Hot Topics
Opinion about Bill Nelson and his EPFZ / QXCI devices
Warning - Bill Nelson's comments on the links provided in his YouTube.com videos are X-Rated