Ravi Devgan Alert
If you have received treatment for any health condition since Devgan had his right to practice medicine in Ontario revoked please let us know. He is not allowed to render medical care to anyone in Ontario, and that includes any kind of injection or prescription drug. Also, if any of you have pictures of Devgan, please let us know.
Please contact HealthWatcher if you have information that would be helpful.
Ravi Devgan investigated for scamming family out of $40,000
Phony treatment scams parents
For The Wallaceburg News

By DAWNE MUDFORD

April 19, 2005

Page A8

[The original article never mentioned Devgan's name because of legal concerns, and the fact that he could be criminally charged for fraud and practicing medicine without a license. In my opinion, the CPSO has no power to do anything to Devgan since they took his license away for good after years of doing absolutely nothing about him.]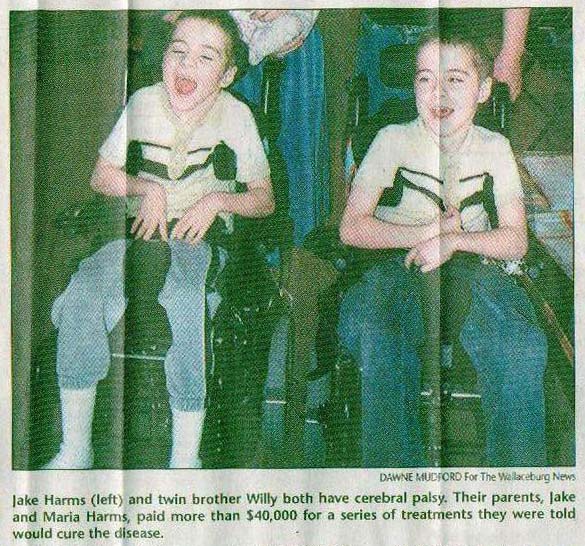 It was a hot summer day, Aug. 5, 1995, when Jake and Maria Harms welcomed their first born into the family surprisingly on Jakešs own birthday. The child was a son, whom they named Jake. Jakešs arrival was followed quickly by the birth of his twin brother, Willy.
While the new parents were overjoyed with their new arrivals, their happiness was overshadowed by concern. The twins had not been due until October. They were very small, weighing in at approximately two pounds each.
The babies required immediate medical intervention to assist with the needs of their premature births. They were admitted to a neonatal intensive care unit, where they remained for more than a month.
When the twins finally arrived home, the first-time parents were overjoyed. They had been warned by their doctors that their children could have some developmental problems due to their prematurity.
As new parents, they busied themselves with diaper changes and feedings. But something just didnšt feel right.
"I wasnšt sure, but I really thought something could be wrong," said their father.
Jake felt that his sons cried too much. They seemed inconsolable. As they continued to grow, the parents had other concerns. The babies could not roll over and, by the age of three, they did not sit, talk or walk. The Harms sought medical advice, but Jakešs meager wages from working on his fatheršs small farm could not begin to cover the expensive and limited health care available in their hometown of Chihuahua, Mexico.
In 2000, on the advice of friends, Jake and Maria packed up their sons, then five years of age, and their few belongings for the long drive to Canada with their life savings of $2,000. Although neither spoke a word of English, they were determined to get help for their sons.
Jake made contact with friends who lived in the area to find a job, eventually settling in Wallaceburg, having found employment in construction and farming. Through the Mennonite Central Committee, they were assisted with their adjustment to life in Canada and speaking English.
The Harms family was fortunate enough to find a family doctor, who examined the children and referred them to the PRISM Centre. Their sons were diagnosed with cerebral palsy, a condition caused by damage to the brain. They were told their children would most likely never walk, be confined to a wheelchair for their entire lives and need round-the-clock care. They were also told there was no known cure for cerebral palsy. Shortly after receiving the devastating news, Jake heard about a doctor who claimed he could cure cerebral palsy.
Filled with hope, Jake immediately contacted the doctoršs Toronto clinic and an appointment was set up.
When the couple went to the clinic, the doctor told them he could make Jake and Willy better. He showed them pictures of children in wheelchairs and told the parents these were the 'before' pictures. The doctor proceeded to show them pictures of the same children running and playing. Those children, he said, were patients and had undergone his therapy that consisted of regular injections of his special blend of vitamins. The doctor said he could restore the sight of the boys, both of whom are visually impaired.
Finally, they thought, they found someone who gave them hope. A licensed medical doctor, who was going to cure their children. The treatments were going to be expensive and they would need them regularly. They needed to pay in cash, the parents were told. The fee was $3,200 per child, per injection.
"He gave us hope," said Jake. "We thought, we donšt care about the money ‹ we just want out kids to be well."
The Harms family made many trips to Toronto over the next four years, meeting the doctor at a different location on each visit ‹ sometimes at an office, a fancy home or apartment and even in a motel room. Each time the couple brought an envelope filled with $6,400 cash.
Receipts were issued on very few occasions and only at the insistence of the couple. Over the course of the treatment period, the family saw no improvement in the health of their sons.
When questioned, the doctor told them "it takes time."
On Dec. 31, 2004 the Harms made one final trip to Toronto to see the doctor, who had never examined the boys or tested their strength. They questioned the doctor about what was in the injections and requested the empty bottle. The doctor, who had always been calm and charismatic, suddenly became angry when Jake insisted on knowing exactly what he had been injecting into his sons.
Jake was told that the vial had been thrown into the garbage and to ask him for one on their next visit.
But there was to be no next visit for the Harms.
In January 2005, the Harms sought the advice of a local support worker, Cathy Peloza. They told her about the doctor and explained the treatment regimen to her.
Peloza was immediately alarmed by their revelations and began researching the doctor and his practices. After typing his name into an Internet search engine, she began to learn about the doctor.
He not only claimed to be able to cure cerebral palsy, but also cancer and a number of other diseases. She also learned that, although he was a Canadian trained MD, his licence to practice medicine had been revoked two years ago.
This was confirmed by the College of Physicians and Surgeons of Ontario, information that was readily available to the public online.
One of the receipts listed the medication given to the boys as: Vitamin B-12, B-Complex, Vitamin C, Solu-Cortef (Hydrocortisone) and sterile water. According to a poll of area pharmacies, the cost of the injections would amount to less than $25 per shot, including the syringe and the dispensing fee.
Over the course of four years, the Harms family paid about $40,000 to the doctor. Nearly everything Jake earned had gone into paying for their treatments.
"Everything we had went to pay him," Jake said. "I worked for four years to pay that doctor."
Jake and Maria had placed their trust this doctor. Unfortunately, this doctor took advantage of the Harms and has a track record of doing the same to others.
The doctor is currently under investigation, by the Ontario Provincial Police Anti-Rackets Health Fraud Team.
Ironically, they had come from Mexico and became Canadian citizens in the hope of finding a better life and perhaps a cure for their beloved children, only to become the prey of a doctor who also has a clinic in Mexico. Although they have worked very hard, Jake and Maria have little to show for their effort.
Their Wallaceburg home, although spotless and tidy, has very little in the way of furnishings. They have no way to transport their sons, who are both in wheelchairs, to their appointments or family outings. They are in desperate need of a lifting device for the twins, now nine. Peloza said they are also in need of an apparatus called a stander to help the boys get into a standing position, something she said is important for health, growth and self-esteem.
Peloza has spearheaded a fundraising drive to assist the Harms family. Several events are being organized in the near future to help raise funds. "The Harms really need help and they need it right now," she said. She is hoping Wallaceburg will rally around the family, which would help restore their trust in human nature.
Anyone who is able to assist the Harms family is asked to call Cathy Peloza at Elgin Park Language and Social Skills Development Services at 627-0860.