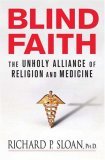 Blind Faith: The Unholy Alliance of
Religion and Medicine
by Dr. Richard P. Sloan, PhD
Blockbuster New Book tackling the thorny issues about religion, prayer and medicine. If you've been told that you have an incurable illness, and that prayer will help --- think again.
This book will open your eyes. Dr. Sloan is a professor at the Columbia University School of Medicine and he introduces us to the major players in this new area of Christian evangelism. The studies purporting to show any health benefits from going to church or "being religious" are all so flawed as to render them useless. Using his epidemiological knowledge, Sloan carefully shows the reader how one should analyze claims from the media and claims in journals that purport to show a connection between religious behavior and improved health.
Support HealthWatcher.net

If you would like to support our efforts to combat quackery, health and diet fraud we make it easy for you to donate to the cause.
Canadian Quackery Watch - Hot Topics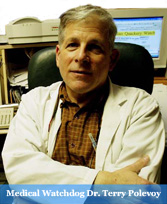 William Hammesfahr, M.D.
Questionable Nobel Prize Nominee
and advocate for the Shindler family in the Terri Schiavo case
Please answer yes or no to the following questions about Dr. William Hammesfahr from Clearwater, Florida:
Would you seek medical care from a doctor who?:
Repeatedly, and I mean repeatedly, advertises himself as a Nobel Prize Nominee in 1999, when the only person who appears to have nominated him is his own U.S. Congressman?

Does not seem to have published a single peer reviewed scientific article in a recognized medical journal.

Says he hasn't done the rigorous clinical studies because he's too busy treating patients and because he feels it would be unethical to withhold the treatment from some patients in order to study them.

Claims that Terri Schiavo is not in a persistent vegetative state and that therapy can help her.

Appears on national TV shows and clearly indicates that Terri Schiavo's spouse tried to kill her.
Affidavits filed on behalf of Terri Shindler-Schiavo