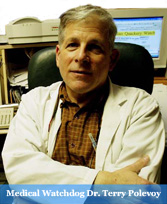 Canadian Quackery Watch is the creation of Dr. Terry Polevoy, a medical doctor who lives and works in the Kitchener-Waterloo, and London, Ontario area. He graduated from Michigan State University where he obtained his B.S., and then completed his medical degree at the Wayne State University School of Medicine in Detroit. He completed his pediatric residency at the University of Western Ontario, and at the Hospital for Sick Children in Toronto.
He became interested in alternative medicine early on in his practice in both the United States and in Canada. After many years of experience he became totally disillusioned with the growth of blatant quackery in medicine, and the acceptance of bogus practices by mainstream medical organizations, and government funded institutions.
In 1997, Dr. Polevoy started his first web site about "alternative" medicine known as www.healthwatcher.net. He then expanded his web presence to add several other separate sites.
These include:
In April 2003, he co-authored the E-book called Pig Pills, Inc. with medical reporter Marvin Ross, and former Health Canada inspector and private detective, Ron Reinhold. The book is the result of a two and-a-half year investigation of the Tony Stephan, and David Hardy nutraceutical known as EMPOWERPLUS. The publication of the book resulted in major actions by Health Canada against the Synergy Group of Canada and their Truehope suppport organizations. They sold this concoction to unwary customers who had serious mental health problems. Their research did not have the approval of Health Canada.

Dr. Polevoy has appeared numerous times on major North American television and radio programs to discuss medical quackery and scams in the nutraceutical and weight loss industries. He is perhaps better known to U.S. viewers for his two-part Tony Brown's Journal on PBS-TV that he did with Stephen Barrett on cancer quack Hulda Clark and her crazy theories and devices.
In March 2004, Dr. Polevoy was a featured guest on the Mitch Albom radio show in Detroit to talk about plastic surgery scams in Texas and California.
On Canadian TV he has helped both CTV and CBC with news specials on diet scams, and medical quackery. In a major documentary about Truehope, which ran on Discovery Health in Canada, as well as on other cable networks in the U.S., Dr. Polevoy was a prime force in convincing the government to investigate their organization.
His efforts to expose major cancer quackery, other health scams, and in particular, anti-vaccine activities of alternative medical practitioners, has made him one of the most hated health professionals by those who practice quackery, and deceive their patients.
A special pet project that is closely tied with his day to day medical practice is the International Skin Cancer Awareness Network - ISCAN. This web site focuses on the growth of the sunbed industry in North America, and the increased risk of skin cancer and other problems created by the overexposure of children and young adults to artificial tanning devices. In particular, the growth of malignant melanoma, and his experiences in his own family with this horrible cancer have helped motivate Dr. Polevoy to help educate the public and politicians to the dangers caused by sunbeds and those who promote them to our children.
Feature articles about Dr. Polevoy