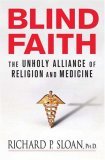 Blind Faith: The Unholy Alliance of
Religion and Medicine
by Dr. Richard P. Sloan, PhD
Blockbuster New Book tackling the thorny issues about religion, prayer and medicine. If you've been told that you have an incurable illness, and that prayer will help --- think again.
This book will open your eyes. Dr. Sloan is a professor at the Columbia University School of Medicine and he introduces us to the major players in this new area of Christian evangelism. The studies purporting to show any health benefits from going to church or "being religious" are all so flawed as to render them useless. Using his epidemiological knowledge, Sloan carefully shows the reader how one should analyze claims from the media and claims in journals that purport to show a connection between religious behavior and improved health.
Support HealthWatcher.net

If you would like to support our efforts to combat quackery, health and diet fraud we make it easy for you to donate to the cause.
More Alternative Medicine News
Iridology Warnings
Caveat Emptor is your only hope
Disclaimer: If anyone does not know what the Latin term "caveat emptor" means, they should go look it up. That's what people in Ontario can expect from their own government.
The Government of Ontario has never in the past, is not now, and will never regulate fringe alternative health care groups. The Government will never approve training programs for iridology because it is quackery.
On the other hand, the College of Physicians and Surgeons of Ontario is too busy looking after fake doctors to even begin to look at fraudulent claims for unregulated schools in our Province.
The only way residents of Ontario can presently deal with this situation is to challenge the newspapers, and radio stations who treat these people as if they are health care professionals. Call your Better Business Bureau if someone tries to sell you a certificate course in iridology. Ask your MPP if complementary medicine should include iridology quackery in its courses.
Put a stop to the charade of self-regulation and fake regulatory bodies used by some holistic groups.
The Sutton Institute no longer exists as such as far as we can tell. Their lease was up in a research park across the street from the University of Western Ontario, and the links that were claimed by the "institute" with that school can no longer be made. When they were in the "education" business, classes were held on weekends at the medical clinic of a prominent Waterloo alternative medical doctor. At that time they trained what they called Preventative Health Care Practitioners.

Part of their curriculum at the time had a heavy emphasis on unproved therapies and "non" diagnostic procedures such as iridology. They still, according to their web site, teach iridology to students who they hope to place in other doctors' offices across Canada.

Late in the year 2000, they surfaced again as the Institute of Integrated Medicine in London, Ontario. One of their clinics is the Patient Centred Clinic of Integrated Medicine.

Gabriele Sutton still claims to be a Registered Integrated Medical Clinician, and a registered nurse. A few years ago, she claimed to be something else, also not regulated by anyone. I think that if you look up that title in the RHPA list of regulated health professionals you won't find RIMC listed. And, if you called up the College of Nurses of Ontario and asked for her license number you might be surprised.

The Institute of Integrated Medicine is not recognized as a licensed school under the government of Ontario. They are not a member of the Ontario Association of Career Colleges.

Which brings me to this site that actually lists the institute as a "career college". Caveat emptor.
Why did a prominent Royal Bank web site choose Gabriele Sutton for a feature article entitled:

Who at the University of Western Ontario was behind the studies of complementary medicine with the Sutton Institute?

Who was the National Council of Preventative Health Care Practitioners?

What were the medical or scientific qualifications of Chris Atkinson, and what exactly had he accomplished in alternative medicine?
Sites for sore eyes:
Iridology Quackery Sites
Iridology pseudo-science web links - no comments on accuracy of this information is implied

Home of Iris Studies - www.iris-ward.com - Dan Waniek says "The beauty is in the whole, and our theory proves it."
This man says he is a French medical doctor who supports iridology. He uses what he calls CAIN and ABEL to do his work. I guess he doesn't read much. Anyone out there who has a homeopathic cure, or who can bend spoons with their minds, please contact him, and send him a message: "Dan, it doesn't work".
---
If you suspect a Quack in your area who uses iridology E-mail us

---