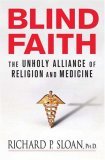 Blind Faith: The Unholy Alliance of
Religion and Medicine
by Dr. Richard P. Sloan, PhD
Blockbuster New Book tackling the thorny issues about religion, prayer and medicine. If you've been told that you have an incurable illness, and that prayer will help --- think again.
This book will open your eyes. Dr. Sloan is a professor at the Columbia University School of Medicine and he introduces us to the major players in this new area of Christian evangelism. The studies purporting to show any health benefits from going to church or "being religious" are all so flawed as to render them useless. Using his epidemiological knowledge, Sloan carefully shows the reader how one should analyze claims from the media and claims in journals that purport to show a connection between religious behavior and improved health.
Support HealthWatcher.net

If you would like to support our efforts to combat health and diet fraud we make it easy for you to help the cause.
APPLE MA002LL/A Video iPod - 30GB - White
2.5" Color Backlit Display / 4:3 Screen / Audio & Video Player / 30GB of Storage Space / Lighter & Thinner Than Previous Versions / Color - White

30GB of Storage space
Up to 7,500 songs, 25,000 photos, & 1,000 videos
Battery Life - up to 14 hrs. of music playback, up to 3 hrs. of slideshows w/ music, & up to 2 hrs. of video
Ports - dock connector, Stereo minijack, composite video and audio through minijack

HealthWatcher also receives support when visitors to our site place an order with VistaPrint, which offers high-quality business cards and other custom printed items at reasonable prices. Customers can obtain in 30 styles or can choose from among hundreds of other styles in which their logo or another graphic can be included.

Visit ACNEDOCS.COM for Gifts
Shark Cartilage - Is it a scam or a cure for cancer?
In their ignorance and greed for money, money, and more money, so-called "homeopathic" and "health food" manufacturers and distributors are not only ignoring the real evidence, but practicing deceptive marketing; misquoting scientists, misrepresenting the results of scientific study, misinforming consumers, preying on and giving terminal cancer patients false hope, (and taking their money), by pushing the product as a cure for cancer in humans. Even K-Mart proudly advertises, "We now have shark cartilage!"
One American-owned shark cartilage factory in Costa Rica destroys more than 111,000 sharks per year -- some estimates place the figure for sharks killed in American waters for cartilage above 200,000 sharks every month.
Kevin Lundquist - Nautilus Productions
Shark cartilage in the news
Lane Labs Slapped Hard
October 25, 2005

Company to offer millions in refunds over products' cancer claims

PHILADELPHIA (AP) - A supplement maker that wrongly claimed its shark-cartilage and other products had cancer-fighting benefits plans to refund customers millions of dollars.

Lane Labs USA-Inc. has tentatively agreed to return up to $8 million to customers who bought three products targeted by the U.S. Food and Drug Administration, company attorney Paul Fishman said Monday.

Last year, a federal judge agreed with an FDA request to ban the Allendale, N.J.-based company from selling the three products and allowed the agency to order customer restitution.

Supplement makers cannot claim their products can treat, prevent or cure specific diseases without approval from the FDA, which Lane Labs did not obtain.

The company lost its appeal Friday.

Lane Labs and founder Andrew Lane can no longer sell BeneFin, made from shark cartilage, as a treatment for cancer; SkinAnswer, a glycoalkaloid cream, as a treatment for skin cancer; and MGN-3, a rice-bran extract, as a treatment for cancer and HIV.

The products were sold in health-food stores and over the Internet.

--- On the Net: Lane Labs: www.lanelabs.com
Shark cartilage research
Science or Science Fiction:
Alternative cancer treatment
Shark Cartilage - Commercial sites
Canada
U.S.
Shark Cartilage - Government
Canada
U.S.
Science or Science Fiction:
Arthritis treatment
Important Shark conservation links?
Some of these sites should contain important information on sharks and shark cartilage. Some report on the huge increase of shark harvesting to supply the world with shark cartilage. It's amazing how the non-governmental agencies seem to have it, while government agencies just come up blank.
SHARK CARTILAGE DEMAND SAID DECIMATING WILDLIFE

According to a report from Costa Rica, the demand for shark cartilage, the dubious cancer remedy promoted on CBS's 60 Minutes in 1993, has increased production more than 7-fold. The report points out that both the chief of oncology at Costa Rica's National Children's Hospital and a spokesperson for the National Cancer Institute consider shark cartilage for cancer a farce.

Oceans and Fisheries Canada Search for Shark Cartilage - The Canadian government site contains no links about shark cartilage, or shark fishing on their site. In fact, there is no search engine, except in their library. It's really embarrasing that the government of Canada allows shark cartilage "drug" trials and yet has no information about sharks. They have a link to the National Day of Remembrance and Action on Violence Against Women, but nothing about the slaughter of sharks.

National Film Board - Sharks Video 1997 - With a booming trade in shark cartilage the world's shark population is being slaughtered at an unprecedented rate. Underwater photographer Tim Calver was drawn to biologist and leading shark researcher Dr. Sam Gruber's world-famous research lab in the Bahamas, where he is now a free-diving expert, a specialist in capturing and freeing sharks for study - and a passionate defender of these misunderstood animals.

Oceans Canada - only one mention of shark oil on their search engine.

The Truth About The Shark Cartilage Scam - Nautilus Productions

If you use shark cartilage or shark liver oil, you are wasting your money and contributing to the wholesale slaughter of helpless animals. More than 20 species of large shark are at this very moment under savage, brutal attack worldwide by the only predator in the seas that can threaten these unique, beautiful animals -- humans.

Stephen Barrett's QuackWatch latest revelations on Shark Cartilage

BeneFin is being studied as a potential cancer therapy under an Investigational New Drug application reviewed by the FDA. As such, it can be distributed for use in clinical trials. Like the other two products, however, it may not be promoted and marketed until its safety and effectiveness are demonstrated and the FDA reviews and approves the sponsor's marketing application.

The government's action seeks to stop the three products from being distributed unless they are either approved for marketing by FDA or are distributed pursuant to an Investigational New Drug application solely for purposes of conducting a clinical trial. The suit against Lane Labs-USA does not affect brands of shark cartilage marketed as "dietary supplements" with no claims that they are intended for preventing or treating disease.

United Nations FAO Food and Agriculture Organization - Fisheries meeting on sharks in 1998 raises issue of shark cartilage only once, while Hong Kong imports thousands of tons of shark fins for their soup.

The International Plan of Action for the Conservation and Management of Sharks - This document makes absolutely no mention of the growing use of shark cartilage.
Canadian Links
CBC Radio-TV