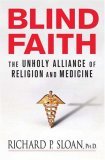 Blind Faith: The Unholy Alliance of
Religion and Medicine
by Dr. Richard P. Sloan, PhD
Blockbuster New Book tackling the thorny issues about religion, prayer and medicine. If you've been told that you have an incurable illness, and that prayer will help --- think again.
This book will open your eyes. Dr. Sloan is a professor at the Columbia University School of Medicine and he introduces us to the major players in this new area of Christian evangelism. The studies purporting to show any health benefits from going to church or "being religious" are all so flawed as to render them useless. Using his epidemiological knowledge, Sloan carefully shows the reader how one should analyze claims from the media and claims in journals that purport to show a connection between religious behavior and improved health.
Support HealthWatcher.net
If you would like to support our efforts to combat spamming and health and diet fraud we make it easy for you to donate to the cause.
Canadian Quackery Watch - Hot Topics
Click below to restrict search
WWW
healthwatcher.net
dietfraud.com
chirowatch.com
Are you annoyed by hundreds of spams per day that flood into your mailbox, and wished that someone would be able to take action? Governments in the U.S. and Canada have passed special legislation called the CAN-SPAM Act. This indicates that your voice is important and that the government and private companies can attack the problem. Dozens of spam operations have been successfully sued . But, it's clear that this will be an uphill battle. Despite some legalactions, the spammers continue their efforts to defraud you and disrupt your life.
Report Spammers, Spoofers, & Phishers
CAN-SPAM Act
FTC - U.S. Federal Trade Commission
Canadian agencies for reporting spam and illegal activities
Major Actions Against Spammers, Spoofers & Phishers
The Head family of Kitchener, Ontario was charged again at the end of September 2004 by Amazon and Microsoft. After they paid out over six-figures in damages just a few months ago, this family is again in the news. Of course they deny all charges that they "spoofed" Amazon or Microsoft. Their lawyer is from California, and he is not talking.
Report Spammers to HealthWatcher

If you want to report spammers that are marketing health and diet products and you want to let us to know about it we may be able to help spread the word. Save the particulars and forward them to: