Clark won't face charges
Judge says delay in arrest, prosecution of alternative health practitioner was too long
By Steve Hinnefeld,
Herald-Times Staff Writer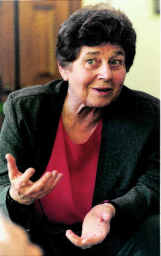 Hulda Clark
NASHVILLE — A charge of practicing medicine without a license, filed more than six years ago against alternative health practitioner Hulda Clark, has been dismissed.
Brown Circuit Judge Judith Stewart ruled the delay in arresting and prosecuting Clark violated the former area resident's right to a speedy trial.
"This is not a case of bad faith on the part of the state," Stewart wrote in the decision, issued Monday. "However, the bottom line remains that the government bears the burden of bringing a defendant to trial within the speedy-trial provisions of our constitutions and our laws. That burden was not met in this case."
Clark, reached Tuesday at the Tijuana, Mexico, clinic where she is research director, said she was "thrilled" with the decision.
"I think it does suggest that there's a fairly progressive mindset," she said, "that alternative therapies are a good thing for society, and they're here to stay and grow."
Stewart said in an April 4 court hearing that her ruling wouldn't reflect on the merit of the charges against Clark. In her decision this week, she agreed with defense attorneys Steve Dillon and Ross Thomas, who said the delay compromised Clark's ability to mount an effective defense.
Jackson County Prosecutor Jeffrey Nierman, who served as special prosecutor in the case, said there was evidence to support the judge's decision. "It was not a decision as to whether the defendant was guilty or not guilty of the crime," he said. "It dealt only with, should the charge be dismissed for lack of speedy prosecution?"
Clark, 71, lived for nearly 30 years in the Bloomington and Nashville area, where she was well known as a consultant on nutrition and alternative medicine topics. She was charged with practicing medicine without a license in August 1993, several months after she moved to the San Diego-Tijuana region.
The charge, a Class C felony carrying a penalty of two to eight years in prison, grew out of an investigation by the state health department and attorney general's office. According to a court affidavit, Clark told an undercover investigator that he had AIDS and that she could cure it.
After she left Indiana, Clark pursued her controversial theories and published four books, most recently The Cure for All Advanced Cancers.
Clark, who has an international following, says cancer and certain other diseases result from effects on the body of toxins and parasites. She advocates treatments that include herbal cleansing and administering electromagnetic waves to the affected organs.
She was arrested in September in California after the FBI learned about the 1993 Indiana charges. Nierman, the Jackson County prosecutor, took over the case in December after Brown County Prosecutor Jim Oliver withdrew because of a conflict of interest. His wife, Amy Huffman Oliver, investigated the case for the attorney general's office.
While prosecutors suggested Clark left Indiana when she learned she was being investigated, Clark testified that she had long planned the move to California.
Word of the decision was spread via the Internet, drawing attention from Clark's supporters and critics around the continent.
"We're getting a lot of e-mails and responses. People are very glad for Clark," said Tim Bolen, a California-based publicist who represents Clark and other alternative-medicine figures.
Bolen said he personally would have liked to see the case go to trial. He said he was confident Clark would have been acquitted, and a trial would have brought more awareness of her work.
On the other side, Terry Polevoy, who runs a Canadian health fraud Web site called Healthwatcher, said it's troubling that there's so much support for medical theories that aren't founded in science.
"They are the product of a delusion, massaged by people like Tim Bolen and the quacks in Mexico who profit from the sales of her books and the recruitment of patients," Polevoy said.
As for Clark, she said she is now teaching and writing "the underlying science" to her theories. She said it was "embarrassing and insulting" to face criminal charges for her work. And she was particularly upset that three patients, who had depended on her advice, died after she was whisked away by police.
At the same time, Clark said, the "silver lining" was that the incident brought attention to her work and to alternative medicine.
"It served the purpose of focusing the public's eyes and ears on what is happening in the United States," she said, "that there is a confrontation of the new therapies by the old therapies — and that the public is very interested in it."
Clark said she was grateful for the support she received, much of it from Bloomington-area residents. "I'd like them to know that each one was appreciated, and I hope that they benefit by the research I have done," she said.
Reporter Steve Hinnefeld can be reached at 331-4374 or by e-mail at hinnefeld@heraldt.com.
Did the judge make the right decision in freeing Hulda Clark? Share your thoughts in the Hoosier Talk discussion forum at www.Hoosiertimes.com.