Woman who claims healing knowledge faces charges
Hulda Clark accused of practicing medicine without a license
By Steve Hinnefeld,
Herald-Times Staff Writer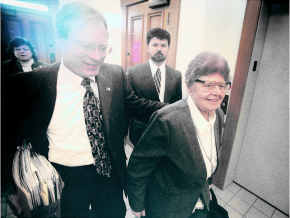 Hulda Clark, right, goes into a courtroom at the Brown County Courthouse with lawyer Stephen Dillon for a hearing Tuesday afternoon in Nashville. Staff photo by Jeremy Hogan
NASHVILLE — Defense attorneys portrayed Hulda Clark in a Tuesday court proceeding as an innocent author and researcher who had no idea she was accused of violating Indiana law.
They said it's unreasonable to prosecute her on a nearly 7-year-old charge of practicing medicine without a license.
"To try this woman now on something that should have been tried in 1993 or '94 is unfair," said Ross Thomas, one of Clark's attorneys. "It violates her fundamental right to a speedy trial."
But a prosecutor in the case painted a different picture of Clark, implying that she fled Indiana for southern California and Mexico when she learned she was being investigated by the state.
Special prosecutor Jeffrey Nierman said the reason for the delay in prosecuting Clark was reasonable — the Brown County Sheriff's Department, with its limited resources, simply wasn't in a position to track her down.
Brown Circuit Judge Judith Stewart said she hopes to rule in about two weeks on Clark's motion to dismiss the charge against her. If Stewart denies the motion, the case can proceed to trial.
Clark, 71, was well known as an alternative health practitioner in the Bloomington-Nashville area. She left Indiana a few months before the Brown County charge was filed in August 1993.
Since moving to the San Diego-Tijuana area, she has published four books, including The Cure for All Disease and The Cure for All Advanced Cancers.
Clark, who has an international following, says cancer and certain other diseases are caused by parasites and environmental toxins. She says cancer can be cured by administering electromagnetic waves and ridding the body of poisons.
She was arrested last September in California after the FBI learned about the 1993 Brown County charge, and she was brought back to Indiana for trial.
The charge stems from an investigation by the state health department and attorney general's office. An undercover investigator visited Clark's Brown County office and said he thought he might have AIDS, according to a charging affidavit. Clark said the man did have AIDS and she could cure it, the affidavit says.
But Clark, testifying on her behalf Tuesday, said she got no notice that the charge had been filed. She said the first she learned of it when she was arrested.
Her lawyers, Ross Thomas and Steve Dillon, said the six-year delay undermined Clark's ability to put on an effective defense. They said she can't recall details of what happened that long ago, and she doesn't have access to records and witnesses that might support her claim of innocence.
They said it was negligence by Brown County authorities — not anything Clark did — that delayed her arrest. "The reason for the delay is that the officers didn't look," Thomas said.
Nierman, the special prosecutor, called Brown County Sheriff Dan Huesman and communications officer Randy Taggart to establish that the department followed standard procedure in tracking Clark. It placed her name in a national crime computer data base and provided information about Clark to the Brown County Democrat newspaper, which listed her three times in its annual "Brown County's most wanted" sections.
"They did what was standard and normal for a department of this size," Nierman said.
Nierman, the Jackson County prosecutor, took over the case after Brown County Prosecutor James Oliver removed himself because of a perceived conflict of interest. His wife worked on the investigation against Clark in 1993 as a deputy Indiana attorney general.
And Amy Huffman Oliver was a key witness for the prosecution Tuesday.
Oliver said the attorney general's office informed Clark in March and April 1993 of a consumer complaint against her. She said she stopped at Clark's Brown County home and office in May 1993, within two days after Clark learned she had been visited by undercover investigators. Clark had moved and cleared out her belongings, Oliver said.
But Clark's attorneys said that, even if she knew she was being investigated, Clark didn't know she had been charged.
Clark said she had been planning to move to California for months before doing so. She was serving as caretaker for a 96-year-old woman who wanted to spend time near the ocean before she died, she said. And she had offers of help in publishing her first book in California, she said.
Far from hiding, she wrote books, publicized her theories and had a California driver's license, a passport and a bank account in her name, she said.
Reporter Steve Hinnefeld can be reached at 331-4374 or by e-mail at hinnefeld@heraldt.com.

Contact the HoosierTimes.com Web staff or visit the HoosierTimes.com advertiser's kit
Copyright © 1997-2000 htInteractive Media